Delhi Government's job application portal named Rozgar Bazaar recently has noticed a high number of advertisements from different companies in India. A good number of people have got registered to this job portal and this stated how people have got affected by this grave situation. As many as 1.9 lakh job-seekers have enrolled with this job portal within the first week of the launch itself. If you are looking for job in delhi, then check out how to register on Rojgar Baazar and other details related to Delhi Govt Portal given below.
Among these 1.9 lakh job seekers, some individuals are such who have lost their jobs due to the pandemic conditions while some are such whose guardian at home has lost the job. There are also some such people who have lost their only earning member of the house to this infection. 
On the other hand, there are also some such individuals who are seeking a job change because their salary has got deducted by the company due to the extreme pressure on them because of the condition. 
So, there are different reasons how individuals have got impacted in this pandemic situation. In such a case, it is a vast step taken by the Delhi Government a number of people are showing trust towards the initiative taken. 
Delhi Govt Portal Rojgar Bazaar (रोजगार बाजार) – Steps to Register Online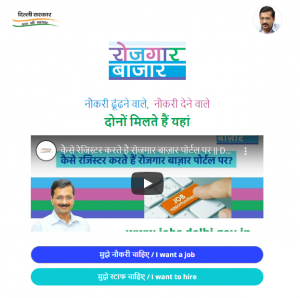 Direct Link to Register in Delhi Job Portal- Rojgar Bazaar Online
Visit jobs.delhi.gov.in and click of I want a job.
Enter your mobile number
Enter the OTP recieved on your mobile number
Enter your details like Name, Education, Nearest District etc
Choose which type of job alerts you would like to recieve and view from the given list (you can select multiple categories)
Final Submit
Rojgar Bazaar Registration Details
Your Name and Gender
Details of your Highest Education
detail of your Job Experience
Your Region and District Name
And if you are comfortable with English or Not
Rojgar Bazaar: Types of Jobs on Delhi Job Portal
Accountant
Agriculture/Farming/Dairy
Architect
Interior Designing
Back Office
Data Entry
Beautician/Spa/Wellness
Caretaker/Domestic Help/Maid
Construction
Content Writer
Cook/Chef
Customer Support/Telly Caller
Delivery Person
Driver
Event Management
Fitness
Graphic/Web Designer
Domestic or Corporate Services (Like Painter, Plumber Electrician, etc)
Housekeeping/Peon
HR/Admin
IT /Hardware/Network Engineer
Legal
Lab Technician/Pharmacist
Manufacturing
Nurse/Ward Boy
Receptionist
Sales/Marketing/Business Development
Delhi Govt Portal Rojgar Bazaar (रोजगार बाजार) Contact Details
Email: rojgarbazaar2020@gmail.com
jobs.delhi.gov.in
Directorate of Employment : www.employment.delhigovt.nic.in
For Help :011-22389393 (Mon-Fri;10:00AM-6:00PM)
You can also register your query via this form- Click Here
The pandemic of COVID 19 has not just scared the people of getting infected but also has impacted their lives in a number of other ways. Due to the lockdown situations prevailing, educational institutes are closed halting the learning system. The Indian Railways and flights are running with limited services troubling so many individuals who have got stuck up at one particular place and are no able to go back home. In such a misery, another thing that has crept up is the increased number of unemployment. 
A good number of companies have gone bankrupt due to the economic condition caused due to this pandemic. Hence, they are closed letting the employees wonder what to do next. Not just the companies who have gone bankrupt, there are also a number of other companies that are either deducting salaries or are even suspending many of the employees from their positions. 
In such a situation, many of the people and families are looking towards the Government for financial help. In the wake of this, Arvind Kejriwal, the Chief Minister of Delhi has taken a very dependable step in order to help these individuals who have recently succumbed their jobs to this pandemic. The Delhi Government has started a new Job Portal that is available in the form of an application for those who are looking forward to seeking job opportunities during this crisis situation. 
The Job Providers on the Job Portal
It is quite a surprise that while there are so many companies that are closing down in this pandemic, there are also some such companies that are still open with a number of vacancies. These companies and job providers have also started advertising on this job portal. 
In the very first week of the launch of the job portal itself, as many as 1 lakh job vacancies have been advertised on this job portal from various industries and for various positions. Noticing such a huge number of vacancies being advertised, the Chief Minister of Delhi mentioned that in Delhi not just job-seekers but a huge number of job-providers are also available. He mentioned that if both of them can meet up at a juncture such as this launched job portal, things can get smoothened to quite a great extent and the problem of job loss can be resolved in a much comfortable way. 
Loss of job is one of the most common problems that people are facing in such a situation of the pandemic. The country is under immense economic pressure and this has led to a number of companies getting shut down and a number of individuals losing their livelihood. Different state governments are offering different aids to individuals in such a situation. Among many such states, Delhi Government has once again surpassed all of them with its launch of this job portal that is going to help many of the individuals to gain new jobs and new earning opportunities even when the pandemic is hitting hard not just throughout the country but also across the world. 
Visit Achieversadda.com and participate in discussions with other aspirants and achievers. Get answers to your queries and connect with others on Achieversadda.com
Check updates related to notification, vacancies, eligibility, exam pattern, syllabus and more related to upcoming bank and insurance exams 2020: