Banking exams can be a tough nut to crack and guidance plays an important role in that. If you are someone who is preparing for the upcoming bank exams then this blog is just for you because we will be telling you the inspiring story of Rajul Pateriya who cleared the RRB PO 2019. 
Also check,
About Rajul Pateriya
Rajul Pateriya hails from a small district in Madhya Pradesh. His father was priest in a temple who died because of a heart attack in 2018 and his mother is a housewife. He has cleared RRB PO 2019 and has been allotted Madhya Pradesh Gramin Bank.
Rajul completed his graduation in 2016 and since then started preparing for a government job. He gave his first attempt in 2016 and scored 33 marks while the cut-off was 49 marks. but He was not preparing for banking exams then and use to fill every form which resulted in multiple failures.
Also Read,
My Preparation strategy
It is very important that you have to be good at atleast two sections and average at one. My maths was good since school so i don't have to work very hard on that area but had to focussed alot on reasoning section. I hailed from a small town that is why my command over English wasn't good and even now i am unable to score a decent score in it. So i knew that the best exam for me to focus on is RRB as there is no English section and i was already good at other two sections.
Quantitative Aptitude- Knowing the syllabus is very important, I made a list of topics asked in banking exams and I used to watch adda247 video on YouTube as per that list. I worked hard on Permutation and combination as it was my weak point. I used to make sure that I am doing an adda247 quiz and mock tests as they are with a par with the examination pattern.
Reasoning Ability– I focussed more on Puzzles because I knew that final selection can only be taken by doing the puzzles and nothing else. In the mains examination as well the maximum number of questions is asked from this topic. so I used to make sure that I am doing two puzzles in the morning and two in the evening of the mains level. Try to solve them on your own no matter how much time it will take. he focussed on puzzles.
General Awareness– I was a very big fan of Ashish sir. I think he is one of the finest teachers of this subject on any online platform. I have just watched the show. I have not made any types of notes or anything. I just use to attend all his sessions and that's all. 
English Language- I didn't focus much on it. I just studied from a standard book of English about the basic grammatical rules and just use to give mock. For English my aim was to just clear the sectional cut-off.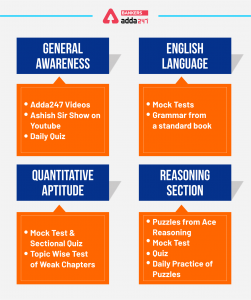 Also Read,
My journey to Success
Every person has to face certain problems. The same thing happened to me as well. My father died due to a heart attack in 2018 and suddenly there was a financial crisis in the family. I had to search for a job to support my family. In January 2019 I finally got the job. Initially, I couldn't get the time because I have to reach at the office at 8:00 in the morning and would come back at 8:00 in the evening but I knew that I had to do it hence I started studying in my office. I used to watch the current affair show in my free time. During my lunch break, I used to give mock tests. If you want to do it, you can do it and if you don't want to do then you have many excuses.
 Also Read,
Tips for Future Banking Aspirants
1. One tip that can help you is to have faith in yourself. If you believe in yourself that you can do it then you can certainly do it with hard work. 
2. Practice as many Mock Tests and questions as you can as this will sail you through this rigorous recruitment process. There is no such thing as too many mocks.
3. Mentally prepare yourself for the worst, so that you don't lose it all when you find a tough question. Do not count how many hours you've to study or you studied. Just be a focus on quality rather than quantity. Make sure to set realistic targets, short term, and long term. The short term is daily and weekly, long term is monthly.
The experience will help you to move forward. I have seen failure since 2016 till RRB PO 2019 final result. It has been a long journey for me But I am glad that I gain experience out of it. 
Practice With,