As we are approaching towards 3rd May, the last day of the lockdown that started in India from 23 March for 21 days and then again was extended; now states are making exit plans for the green zones. The green zones are the one with no active case of COVID-19 and Goa, Nagaland, Arunachal Pradesh, Manipur and Tripura already have been reported as corona-free states; can resume activities keeping in mind certain preventive measures. The orange zones are the ones with less no. of active cases and a contained situation that is being handled properly are also expected to slowly get back on track, however for the red zones i.e. hotspots of COVID-19 the lockdown or curfew must be extended further till the time thing get under control.
This distribution will help to pick up the economic activity in the nation helping to save both life and livelihood of the people in this pandemic situation of the Corona Virus. 

Also Check,
As India is a large population country, therefore India cannot afford to forgo complete social distancing and complete lockdown for the complete nation. Therefore, this planned strategy of distributing the nation into these zonal systems will help a bit to pick up the economic activity to certain contexts. The extended lockdown is called with the names like Lockdown 2.0 or Smart Lockdown which surely describes the approach of the government to maintain the balance in the nation during this pandemic COVID-19 period.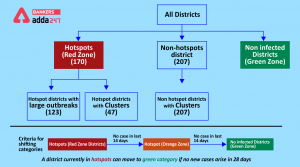 Red Zone: This zone is referred to as the zonal area with maximum number of coronavirus cases and is at the highest risk for developing a cluster of coronavirus cases in the upcoming days. Any activity in this area is strictly prohibited with a complete lockdown. The health ministry has classified 170 hotspot districts under Red Zones. All six metropolitan cities – Delhi, Mumbai, Kolkata, Chennai, Bengaluru and Hyderabad – currently have a high number of COVID-19 cases.
Click Here to Download COVID-19 Hotspots List in India
Orange Zone: The areas which are at moderate risk of Corona Virus are kept in Orange Zone or the areas where there is no increase in the cases from few weeks. A district that has not reported a single case in last 14 days is an orange zone district. In these areas, limited transport and economic activities are allowed including harvesting of farm products but maintaining social distancing is compulsory. 
Green Zone: The areas which have not recorded any positive case of Coronavirus to date are referred to as the safe zone or green zone in the country. Only limited activities are allowed to re-start such as Medium Small Scale Enterprises in order to pick up the economic activity to some level.
State-wise List of Areas in Red Zone with large outbreaks
| | |
| --- | --- |
| Andhra Pradesh | Kurnool, Guntur, Spsr Nellore, Prakasam, Krishna, YSR, West Godavari, Chittoor, Visakhapattanam, East Godavari, Anantpur |
| Bihar | Biwan |
| Chandigarh | Chandigarh |
| Chhattisgarh | Korba |
| Delhi | South Delhi, Shahdara, South East Delhi, West Delhi, North Delhi, Central Delhi, East Delhi, New Delhi, South West Delhi |
| Gujarat | Ahmedabad, Vadodara, Surat, Bhavnagar, Rajkot |
| Haryana | Nuh, Gurgaon, Faridabad, Palwal |
| Jammu and Kashmir | Srinagar, Bandipora, Baramulla, Jammu, Udhampur, Kupwara |
| Karnataka | Bengaluru Urban, Mysuru, Belagavi |
| Kerala | Kasargod, Kannur, Eranakulam, Malappuram, Thiruvananthapuram, Pathanamthitta |
| Madhya Pradesh | Indore, Bhopal, Khargone, Ujjain, Hoshangabad |
| Maharashtra | Mumbai, Pune, Thane, Nagpur, Sangli, Ahmednagar, Yawatmal, Aurangabad, Buldhana, Mumbai suburban, Nasik |
| Odisha | Khurda |
| Punjab | Sasnagar, SBS Nagar, Jalandhar, Pathankot |
| Rajasthan | Jaipur, Tonk, Jodhpur, Banswara, Kota, Jhunjhnu, Bhilwara, Jaisalmer, Bikaner, Jhalawar, Bharatpur |
| Tamil Nadu | Chennai, Tiruchirapalli, Coimbatore, Erode, Tirunelveli, Dindigul, Villupuram, Namakkal, Theni, Chengalpattu, Tiruppur, Vellore, Madurai, Tutiporin, Karur, Virudhnagar, Kanniyakumari, Cuddalore, Thiruvallur, Thivarur, Salem, Nagapattinam |
| Telangana | Hyderabad, Nizamabad, Warangal urban, Ranga Reddy, Jogulambagadwal, Medchal Malkajgiri, Karimnagar, Nirmal |
| Uttar Pradesh | Agra, Gautam Buddh Nagar, Meerut, Lucknow, Ghaziabad, Saharanpur, Shamli, Firozabad, Moradabad |
| Uttarakhand | Dehradun |
| West Bengal | Kolkata, Howrah, Purba Mednipur, 24 Paragana North |
According to the sources, the schools, colleges, offices, and malls will not be in function till further notice, however, some essential small scale businesses including ration shops are allowed to operate to meet the necessity of the public. The essential services and industries are going to be allowed to reopen as per the context of the categorization of the areas into Red, Orange, and Green zones by the Central Government. 
Also Read,
It is understood that the extension of lockdown is important to save lives of the people and cut off the spread of the coronavirus across the country.  However, the rise in economic activity is also important at the same pace. 
Click Here to Register for Bank Exams 2020 Preparation Material
Practice With,