The World Environment Day is celebrated on 5th June and was first held in 1974 and the theme for 2020 is "biodiversity". You are able to breathe and survive only because nature has provided the right amount of natural resources such as oxygen in the fresh air, water from the lakes, and so on. But since the last many years, human beings are continuously exploiting nature through pollution and other means that are leading to a very poorly-conditioned environment lately. 
It is very much important today to take care of nature and bring back the original form so that the planet Earth can be saved and life on the planet can be saved. With respect to such a concern, World Environment Day is celebrated across the world on 5th June each year. 
World Environment Day 2020
We rely on nature for our health, jobs & so much more.

For #WorldEnvironmentDay, #StayHome & raise your voice with @BillNye @billieeilish @carlosvives & citizens around the planet.

Reply & tell us why it's time #ForNature

Why you 💚 nature & what you're doing to care for it. pic.twitter.com/A2tLS5eDzI

— UN Environment Programme (@UNEP) May 28, 2020
What is the Theme of World Environment Day 2020?
World Environment Day Origin and Significance 
It all started when discussions started happening about how human beings are integrating and dealing with the environment. Such discussions soon resulted in the UN General Assembly to take a major step of establishing World Environment Day. The UN established this day on the very first day when the Stockholm Conference started, where discussions about Human-Environment took place. 

UN and many other environmental experts are working together to take various necessary steps that can help in maintaining the balance so that the environment can be saved. Planting trees, reducing pollution, and so on are some of the steps that can matter a lot. 
World Environment Day is a day that is mainly to spread awareness in different parts of the world about how humans can return the favors of nature by protecting the environment. There are different activities and events that take place such as planting trees, protecting biodiversity, and many others that can actually help in protecting the environment and also life on the Earth. 
World Environment Day 2020 Theme
Last year the theme for World Environment Day was Air Pollution. The way vehicles are increasing on the road and factories are setting up in different cities, pollution is rising in the air and this is a matter of concern. Keeping this in mind, the World Environment Day 2019 theme was air pollution to spread awareness about how air pollution is dangerous and how humans can combat it. 
What is the Theme of World Environment Day 2020?
World Environment Day 2020 will be celebrated with the theme Biodiversity. This theme will show a concern that is both urgent and existential.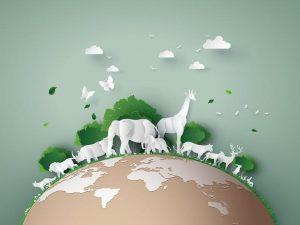 Theme of World Environment 2020 – 'celebrating biodiversity' – a concern that is both urgent and existential. Photo Credit: Shutterstock
Recently, a number of things are happening across the world such as the forest fire in Brazil, the massive cyclone and flood in India, locust attacks in East Africa and Asia, and many others. Also, in addition to these, the pandemic of COVID that has affected the entire world is a new problem. Thus, this can be said that there is a direct connection between humans and biodiversity. 
The diseases such as coronavirus that is transmitted to humans through animals like bats, the natural disasters that are taking place are all sending us a message that nature is losing balance. Different actions that have taken place in the past and are still continued such as clearing out the forests, killing wildlife, and many others have crossed limits now. 
If these actions are not stopped now, nature is surely going to reciprocate in such a way that it is going to hamper the health and food systems even more. As of now billions of people have got affected by coronavirus across the world. The situation can worsen in the future with the onset of many other diseases if the right precautions are not taken now to safeguard the environment. 
Only a few small steps such as planting a tree by every individual and reducing the use of motor vehicles can help a lot. Currently, when many of the nations have followed lockdown, it was found that the air got much purer and clearer than the usual days. Keeping this in mind, many of the big companies across the world such as Google has decided that it will arrange for work for home schedules for many of its employees even when the pandemic is over so that the environment can be protected. Though life cannot be stopped, several ways can be found out that can help in preserving nature and its biodiversity.  
Check updates related to notification, vacancies, eligibility, exam pattern, syllabus and more related to upcoming bank and insurance exams 2020:
Visit Achieversadda.com and participate in discussions with other aspirants and achievers. Get answers to your queries and connect with others on Achieversadda.com