How to Boost Your Banking Career? – JAIIB/CAIIB
IIBF(Indian Institute of Banking and Finance) conducts two important flagship courses, JAIIB and CAIIB for the banking and financial sector employees. JAIIB and CAIIB are promotional-driven exams that boost the career of a banking employee. In the banking sector, JAIIB/CAIIB has much weightage. JAIIB/CAIIB is a growth step for an employee who joins the institution as a clerk or an officer. Clearing JAIIB and CAIIB Exams not only enhances the career and provides an increment in the salary but also advances the morale of an employee and makes them more confident. In this article, we have discussed the different methods through which JAIIB/CAIIB boosts the banking career.
What is the value of JAIIB/CAIIB?
In today's time the Reserve Bank of India(RBI)  has a huge demand for the educated or knowledgeable bankers. Years before banking sector did not have much pressure but now it has various works to perform. The future of banking is very competitive and they will have to compete with various sectors. A drastic change will be seen in the banking sector when Blockchain Technology is incorporated. JAIIB/CAIIB not only provides an increment but also makes the banker educated. In the terms of banking and finance JAIIB is considered equivalent to matriculation and CAIIB to graduation. The values of JAIIB/CAIIB and the ways through which a banker can boost their career are:
After qualifying JAIIB & CAIIB Exams employees will have advanced knowledge in their working field. They will acquire the ability to make better decisions in the field of Treasury, Risk, Balance Sheet issues, Credit, International Banking, Economic Analysis, etc.
JAIIB and CAIIB cleared aspirants have a lot of weightage in the internal promotions held in the banks.
The confidence level in the day-to-day activities will get levelled up as knowledge will be increased after qualifying JAIIB/CAIIB Exam. Their banking knowledge as well as the applications of banking knowledge will be enhanced. In the banking sector applications of banking knowledge is very important.
Analytical Skills, Problem-solving, logical reasoning skills, and decision making capacity of an individual will boost up through JAIIB and CAIIB. Their skills will improve as the basic concepts of banking will be cleared.
जानिए अपने बैंकिंग करियर को कैसे बढ़ाए आगे? – JAIIB/CAIIB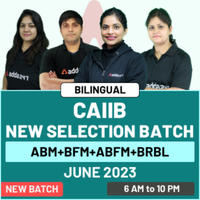 The different fields in which a banker can specialize themselves after qualifying JAIIB and CAIIB Exams are: Risk Management, Treasury Management, Credit Management, International Banking, Balance Sheet Management, and Economic Analysis.