One of the most asked question by students who are just starting their preparation is- Which is more difficult SBI PO or SSC CGL?. In this space, we will be trying to answer this question in detail so that you can understand and decide the road ahead fro yourself. The difficulty level of an exam is defined by several factors and we will be addressing all those factors. To begin with, One of the factor that distinguish them is the fact that State Bank Of India Probationary Officer is a bank exam on the other hand  SSC CGL is an exam conducted to recruit candidates in various government departments. Exam pattern, syllabus etc everything differs from each other except the fact that you can still prepare for both the exam simultaneously.

Exam Pattern
One of the key feature that defines the difficulty level of an examination is its exam pattern. SBI PO is a three stage recruitment process while SSC CGL is a four stage recruitment process. There is interview in SBI PO while there is no interview in SSC CGL. The number of vacancies are less in SBI PO while the number of vacancies are more in SSC CGL. These are some of the basic difference in their exam pattern. Now let's get into the detail of it.
SBI PO Exam Pattern
Phase-I: Preliminary Examination
Preliminary Examination of SBI PO consisting of Objective Tests for 100 marks is conducted online. This prelim test is of 1-hour duration consisting of 3 Sections(with separate timings for each section) as follows:
S.No.
Name of Tests(Objective
No. of Questions
Maximum Marks
Duration
1
English Language
30
30
20 minutes
2
Quantitative Aptitude
35
35
20 minutes
3
Reasoning Ability
35
35
20 minutes
Total
100
100
60 minutes
Phase – II: Main Examination
Main Examination of SBI 2020 consists of Objective Tests for 200 marks and Descriptive Test for 50 marks as given below:
S.No.
Name of Tests(Objective)
No. of Questions
Maximum Marks
Duration
1
Reasoning & Computer Aptitude
45
60
60 minutes
2
English Language
35
40
40 minutes
3
Data Analysis & Interpretation
35
60
45 minutes
4
General/ Economy/ Banking Awareness
40
40
35 minutes
Total
155
200
3 Hours
Objective Test: The objective test  of SBI PO is of 3 hours duration & consists of 4 Sections for total 200 marks.
Descriptive Test: The Descriptive Test of 30 minutes duration with 50 marks is a Test of English Language in which one question is from Letter Writing & another is Essay.
Exam Pattern Of SSC CGL
Given below are the stages of SSC CGL recruitment process:
Tier
Type Of Exam
Mode Of Exam
Tier-I
Objective Multiple Choice
Computer Based Mode (Online)
Tier-II
Objective Multiple Choice
Computer Based Mode (Online)
Tier-III
Objective Multiple Choice
Pen & Paper Mode (Offline)
Tier-IV
Skill Test: Data Entry Speed Test (DEST)/ Computer Proficiency Test (CPT)
Wherever Applicable (Not necessary for all posts)
Document Verification
Applicable for all posts
SSC CGL 2020 Exam Pattern
SSC CGL Exam Pattern for Tier 1
In, SSC CGL Tier-I 2020 exam there are 4 sections with 25 questions each as given in the table below:
S No.
Sections
No. of Questions
Total Marks
Time Allotted
1
General Intelligence and Reasoning
25
50
A cumulative time of 60 minutes
2
General Awareness
25
50
3
Quantitative Aptitude
25
50
4
English Comprehension
25
50
Total
100
200
As per the official notification, the total time of 80 minutes is allotted to physically handicapped students.
As per the official Notification, 0.5 marks will be deducted from every question that is attempted wrong by a candidate.
SSC CGL 2020 Exam Pattern of Tier 2 Exam
SSC CGL Tier-2 is of 200 marks exam. 2 hour time limit is given.
| S No. | Sections | No. of Questions | Total Marks | Time Allotted |
| --- | --- | --- | --- | --- |
| 1 | Quantitative Ability | 100 | 200 | 2 hours |
| 2 | English Language and Comprehension | 200 | 200 | 2 hours |
| 3 | Statistics | 100 | 200 | 2 hours |
| 4 | General Studies (Finance and Economics) | 100 | 200 | 2 hours |
SSC CGL Syllabus 2020 of Tier 3 Exam
 Tier-III paper is designed for specific candidates who are interested only for the post of "Statistical Investigator Grade-II" & "Compiler".
SSC CGL 

Syllabus 2020 For 

Tier 4 Exam
SSC CGL Tier-4 examination constitutes a couple of skill sets required for certain Government Posts all over the country like: CPT (Computer Proficiency Test), DEST (Data Entry Speed Test), 
Analysis
As you can see that SSC CGL is a much longer process than SBI PO, this makes it more difficult and also in SBI PO, the marks of prelims are not counted to prepare the final merit list while list is prepare by considering the marks in mains and interview. SSC CGL is one such exam where a student cannot afford to make mistake at any stage of the recruitment process because the marks of all the stages are considered for final merit list. This adds upto its difficulty level.
SBI PO Vacancy
The vacancies of SBI PO over the years varied from 1500-2200. In 2019 there were 2000 vacancies were reported. Based on number of vacancies candidates will be shortlisted for subsequent stages i.e. SBI PO mains & SBI PO 2020 Interview. As it can be seen from the graph that the number of vacancies which were already less are decreasing every year which adds up to its difficulty level.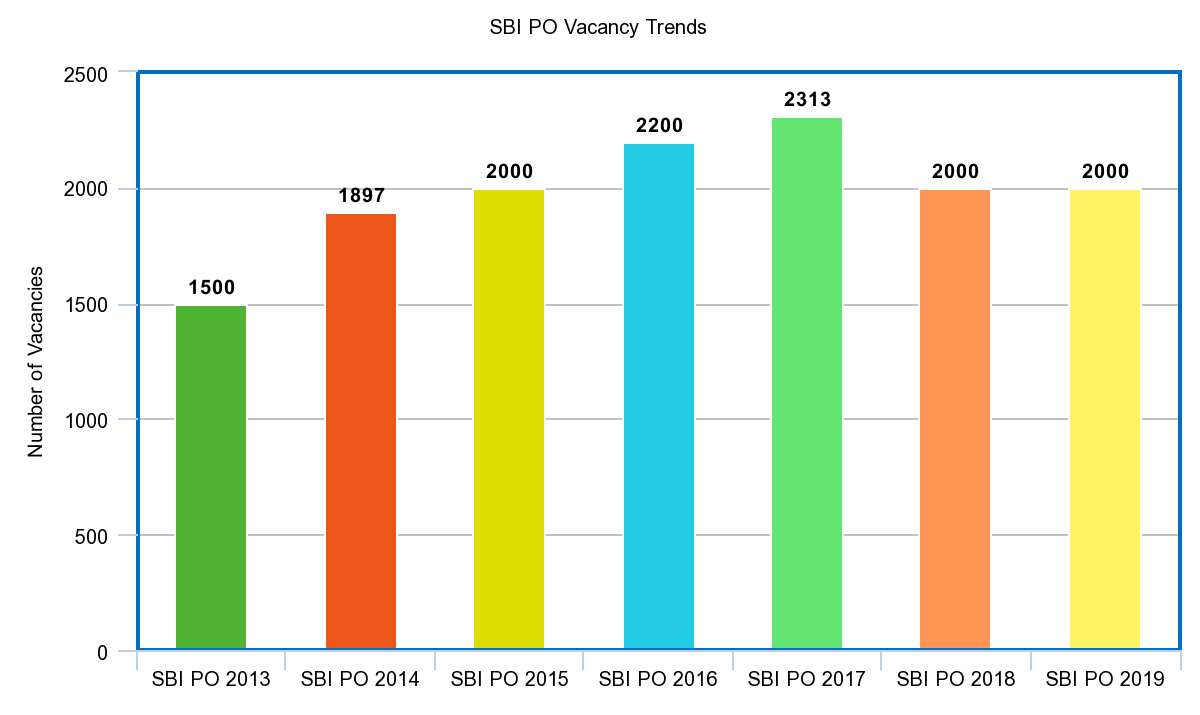 Also Read,
SSC CGL Vacancies
The number of vacancies released by SSC CGL are way more than the number of vacancies released by SBI PO which makes it compartively easier than SBI PO because the final merit list if inversely proportional to the number of vacancies which means if the vacancies are more than cut off will be low and vice-versa.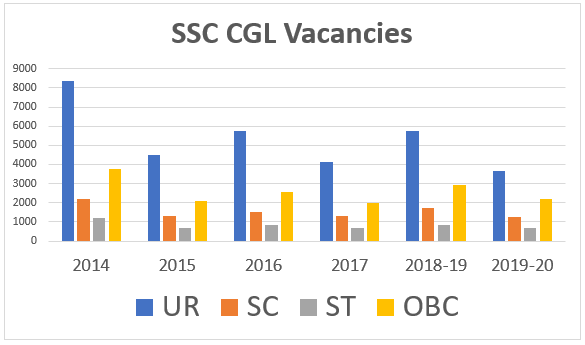 Conclusion
Both the exams can be cracked by a sincere student with right strategy. Infact, we have seen so many examples of students who cracked both SSC CGL and SBI PO at the same time. You can too clear them as both of them have more or less same syllabus. All you need is the right approach and attitude than you can do it.
Visit Achieversadda.com and participate in discussions with other aspirants and achievers. Get answers to your queries and connect with others on Achieversadda.com